Child Citizenship is a special scenario of granting citizenship to a child when he/ she turns 10 years. In Australia Unlike some countries if your child is born in Australia they are not counted as citizen immediately. In fact, they are issued an equivalent Visa Status as of their parents are holding. For example, if your parent is holding a student visa then the child is issued a student visa. But there is one more way where Australian Government issues citizenship to a child when he/she is able to show Australian Department of Home Affairs that he/she has been living as 'Ordinarily Resident' for 10 years since the date of his/her birth.
Eligibility Criteria:
 Child Should be Born in Australia
Should be living in Australia as an ordinarily resident
 Children born to foreign diplomats are not eligible
Benefits:
Open doors for parents to apply for 143 visa application.
At Sunmarg Migrations Australia we have expertise in child citizenship visa.
Here is a brief example One of our recent cases.
In this case, Child was already refused His Citizenship application twice.
They were already disappointed with their previous agent and didn't know where to go.
Reason of the child's previous refusal was that he lived overseas for about 2.5 years during the first 10 years of the child.
When the client came to Sunmarg Migrations Australia we were able to show the client with some unidentified merits in their case and gave them some confidence in the new application filed by us.
Our team at Sunmarg was able to approve Child Citizenship in 1st application
So if you are having a similar type of problem or need to apply for a new application for child citizenship Apply with Sunmarg today.
For more details chat with AI based chatbot or mail us at: admin@sunmarg.com.au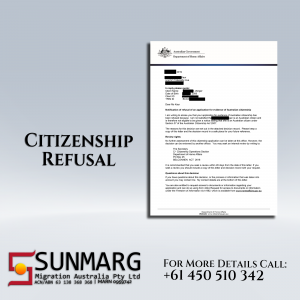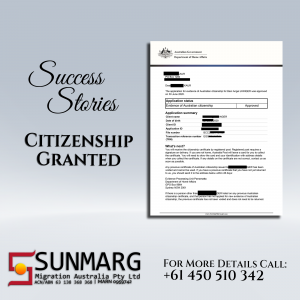 At Sunmarg Migrations Australia Pty. Ltd. we are passionate about solving complex visa cases. We have solutions for all the problems you are facing while applying for the new Visa application or ongoing case or more.
Let's dive into the types of services we provide.